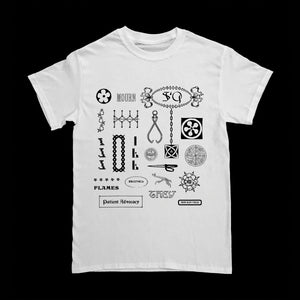 Sick In Quarters
"SIQ SAD WORLD" by Thai Lu
Regular price
$45.00
$0.00
Unit price
per
Tax included.
White short sleeve Gildan Softstyle t-shirt with a black printed design by Thai Lu. 

Available sizes: S, M, L, XL
Shipping price is calculated at checkout
Thai Lu is an interdisciplinary artist, designer, and community organizer. Today their practice is centered on the social, cultural, psychic, and physical effects of chronic illness. By drawing from personal experience, Thai examines the intersections of Western bio-politics, Southeast Asian diaspora, interdependence, and metamorphosis.
[Image Description: A white t-shirt with a black design printed on it. Black objects and text are arranged neatly against a white background, with even space between them. Drawn flowers, some abstract, some realistic, can be found throughout the image, along with a chicken foot; a dagger, a line of stars, a globe encircled by a crown and a halo of rays, a pair of calipers, a row of stitches, an oblong, tattoo-like, thorny braid, and a geometric, architectural roundel. In the upper right, the [SIQ] logo, angular and calligraphic, is set in a feminine, ribboned oval frame. A chain hangs from this frame, and a geometric symbol - two interlocked lenses - is suspended from it. To the left of the logo, the word [MOURN] is written. Below this, in the center-left, the word [ILL] is spelled in square letters vertically down the page; separated by the tattoo braid, the reflection of this word appears in pointellated font against the left margin. Below this, [FLAMES] is written under the line of stars; and just to the right, [BIBLIOTHECA] is circled. [THEY], inscribed in some medieval font under the chicken foot, separates the framed words [Patient Advocacy], which has a delicate, hatched border, and [FROM MANY FIELDS], which has a thick, black, rounded border.]
---