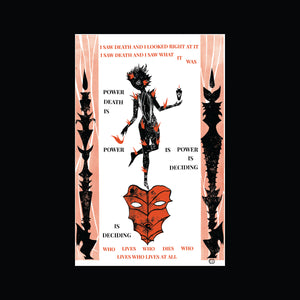 Sick In Quarters
"POWER IS DECIDING" Poster by Cecilia Caldiera, with poem by LA Warman
Regular price
$30.00
$0.00
Unit price
per
Tax included.
Two-color silk-screened 11" x 17" poster with a poem by LA Warman. 

Shipping price is calculated at checkout
Cecilia Caldiera is an artist living and working in Brooklyn, NY. She uses mainstream iconography and found objects in conjunction with imaginative imagery from mythology and divination to create graphic prints, posters, and paintings.
[Image description: [Digital print in shades of gray, black, red and white] A slim, nymph-like gray figure stands on the toes of its right foot in the center of the page; this foot is planted on the midrib of a large, anthropomorphic leaf, whose white, empty eyes and open mouth stare without expression from the bottom center of the print. The figure's left leg is bent at the knee as though in motion; its head is turned in three-quarter profile, and its starburst-shaped eye peers straight out at the viewer. In its chest, a small dark humanoid creature rests upside down as though just consumed. The contours of what may be wings enclose the creature and form a vaginal, mouth-like shape around it. The gray nymph seems to erupt in spikes or flames at all its joints, forehead, and jaw. In its left hand, it holds a vessel with a flame hovering above it; its right hand is open and points downward, and seems to beckon a bird or another flame. The right and left borders of the image are pale grays with vertical, undulating white lines; long black candlesticks, lit with small black flames, are superimposed over the gray fields. Winged gargoyles at the base of the candlesticks crouch in full profile, faces pointed towards the center composition. Text in varying shades of gray dances around the gray nymph and the leaf, reading [I SAW DEATH AND I LOOKED RIGHT AT IT I SAW DEATH AND I SAW WHAT IT WAS POWER DEATH IS POWER IS POWER IS DECIDING IS DECIDING WHO LIVES WHO DIES WHO LIVES WHO LIVES AT ALL - L.A. Warman co]
---