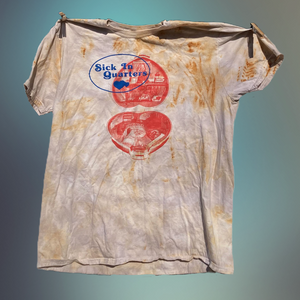 Sick In Quarters, nonbirdbody
LIMITED EDITION : 'Sick in Quarters' T-shirt by Mira Moore, dyed by Dove ER* - #3, Size XL
Regular price
$80.00
$0.00
Unit price
per
Tax included.
White short sleeve Gildan Softstyle t-shirt with bright red and cobalt blue design by Mira Moore. Silkscreen print. Naturally hand-dyed with rust and white oak acorns by nonbirdbody (Dove ER*).
Marked size Extra Large (XL). One of a kind. 
。・:*˚:✧。 [emoticon sparkles line break]
All funds raised through this limited edition merch drop will go toward sustaining SiQ's very small and unpaid core team through our various personal emergencies and ongoing expenses, such as housing and medical bills. 
We're offering sliding scale pricing in an effort to make our merch more accessible within this emergency fundraiser. Come as you are and pay what feels comfortable at this time, no questions asked!
For the lower end of our pricing, use the code SIQ30 at checkout (all caps). For the mid-range of our pricing, use the code SIQ15 at checkout (all caps). Payment plans and shipping price are available at checkout. Tax is included.
If you have any questions about our sliding scale offerings, please email dove@sickinquarters.com. 
💚 [green heart emoji] 
image description : a t-shirt suspended on a blurred and desaturated teal, blue-grey and warm grey color field background. The t-shirt against the background is photographed straight-on, pinned to an invisible wall with two wooden clothespins at the top of either short sleeve that create harsh shadows along the collar and short sleeves. The t-shirt features a bold red and cobalt blue printed design by Mira Moore, and naturally dyed with streaks of rust and a subtle ghostly grey wash of faint tie-dye spiral patterns. The design itself is a graphic including a red print of a heart-shaped 1980s Polly Pocket dollhouse. Inside the dollhouse are a full room with windows, a bed, couches, and stairs. It is overlaid with the text 'Sick In Quarters' and a heart symbol in cobalt blue, encircled in an oval. Some of the rust dye overlaps and frames the shape of the printed design.
---